What is shatter anyway?
If you're new to the modern world of legal cannabis products, certain terms can get confusing. That's okay, but you have to be in the know if you want to join this growing industry. Shatter is a kind of concentrated cannabis. Instead of the green buds, you might think of, shatter is produced by saturating marijuana flowers with butane gas, which removes all the chemicals that produce the effects of cannabis. What results is a thick, glassy amber substance full of THC, CBD, and other cannabinoids, that cracks or shatters into pieces. If the manufacturer uses a slightly different process, the cannabis concentrate can have more oil, and it's called wax because of this consistency.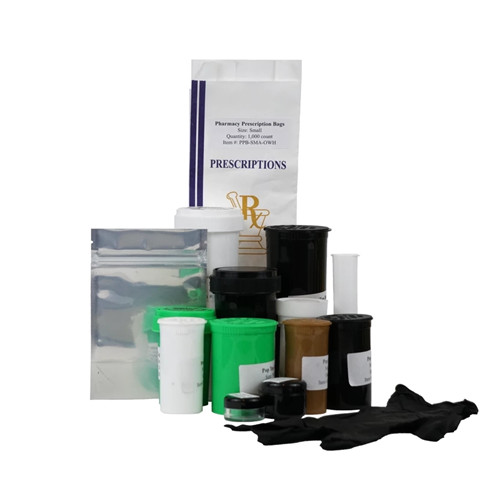 Container Types for Cannabis Concentrates
Like marijuana flowers, concentrates need special kinds of packaging to keep them fresh for sale and storage. Medical marijuana is literally that: medicine, so it needs the same kind of safe packaging. Whether it's plastic or glass, concentrate containers need to keep the product fresh, potent, and secure.
Glass Jars

– Glass has been used to contain medicines, tinctures, concentrates, waxes, and creams throughout history. And for good reason. Glass is naturally non-porous, so the chemicals won't leach into the packaging. Clear glass also makes for great display packaging as well, so you can see the unique color of the shatter. Of course, nothing is perfect, so glass concentrate containers have some cons like breakability and price (depending on where you get your cannabis packaging). You do have to be a little more careful shipping cannabis products in glass containers.
Coin Envelopes

– One very simple and economical option for packaging dry cannabis concentrates like shatter are paper envelopes. Sounds crazy, but as long as your shatter isn't very sticky or oily, it can be perfectly reasonable to package it in paper envelopes. You can also wrap the shatter in wax paper before putting it in an envelope, and you can also look for waxed or lined envelopes from your packaging supplier. These kinds of small envelopes can be good for dry concentrates because the paper won't stick to them, and you can package shatter that has been broken up enough to resemble dust.
Mylar Bags

– It may not be your first thought, but you can package even sticky cannabis concentrates in bags too. If you want to use a bag to package your cannabis shatter, you can also choose bags made of plastic. Mylar is a great plastic for packaging because it can be made in a ton of different colors and finishes, including clear. Cannabis packaging suppliers also have bags with a mylar or foil back and a clear mylar front so that you can really see the product just like you would with a glass concentrate container.
With all these options, your head may be spinning. There are a ton of factors to consider for packaging cannabis concentrates, but don't worry. We got you! We've done all the research, and we can tell you which type of container is best.